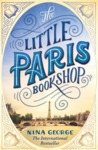 The Little Paris Bookshop by Nina George
My rating: 2 of 5 stars
Hm.
I read this with high hopes. But oh. Oh I was wrong. I thought this would be about a man that had a boat shop full of books that he sold to people like medicine? It was accurate for the first 50 pages and then…
It turned into something else – a pilgrimage maybe?
I enjoyed the first part, in finding the right book to help that person at that particular time, but it didn't last long. We also had a mystery of a letter that was given to our main guy which we have yet to know what is inside. He opens it much quicker than I expected, and this changes the whole story. He ends up on the boat travelling for most of it, his books not as important anymore.
Which upset me a little bit.
Also for a book that looks cutsie- there is so much sex in this book. He is also a pervy character always commenting on the beauty of women and thinking about having sex with them. no no no no.
So overall I was pretty disappointed with this book, it wasn't what I thought it would be 😦 And in parts it was just boring to read.