We are infinite. 
I read Perks of Being a Wallflower a long time ago in my young teen years, and it's stayed with me as one of my favourite books of all time.
When the film adaption came out in 2012 I was sceptical at first but then as soon as I saw the cast and knew that Stephen Chbosky also had a hand in the film I was instantly relieved.
Characters
Logan is fantastic as Charlie, my awkward, musically inclined little sunbeam. I love him in the book, and I loved him in the film. Real top notch casting there!
Emma Watson also is good as Sam – my favourite part is her standing in the car with Bowie playing loudly – my favourite quote over that just made me tingle.
My favourite character though, is for definite Patrick. He makes my heart break but he also pieces it together again and again, and Ezra lifted him right off of the page. He might be one of my most favourite castings of all time.
This particular scene definitely got me ticking -ha! 
CGI/Cinematography 
Being a coming-of-age story there was nothing in the way of CGI but I will mention a couple of beautiful shots that were my favourite.
One being Sam standing outside the car roof while they went through the tunnel, and two when Charlie takes something and ends up lying face up in the snow in the moonlight. There is something beautifully tragic and poignant about that moment.
Music 
Apart from an emotional and well crafted composition for the score that was both heartfelt and tense, this film also packed some well loved tunes of the 80s. Now I wasn't born in this era (lil ol 90s baby me!) But my favourite song of all time is 'Come on Eileen' and it was made even more so when it was featured in this film – it's a great moment at the prom and it really wants to make you move!
Changes and Similarities
I appreciated not being stuck in Charlie's head the whole time in the film – he wallowed a lot in the book but in the film it can't be brought to our attention as much because well, we wouldn't see much of his life around him. So he's much more bolder in the film.
And my next favourite change they made to the film was having his relationship with his teacher brought forward for us to see. And I am pleased they did because it's one of the main parts of Charlie fitting back into High School and I love it. Paul Rudd is also a darling – with another one of my favourite quotes!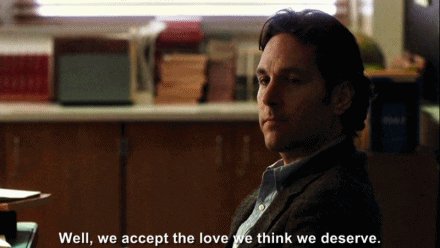 Overall this is one of my favourite film adaptions, probably because Stephan had such a say in the film as whole (He couldn't leave his three babies be in someone else's hands!)  Read the book if you haven't yet, or watch the film if you never seen it – it's one that will be remembered!
See you soon!
Happy Reading,
Love Em x